Whenever I run across the question, "What should I see when I visit [blank]?" I can guess most of the answers. Helpful folks will respond with a list of the usual landmarks, often with tips about avoiding crowds.
There are a lot of people who want nothing more than to shoot a selfie in front of the Eiffel Tower. There's not anything necessarily wrong with that. But Greatest Hits tours of places, particularly major cities, can lead travelers to miss a lot. A lot.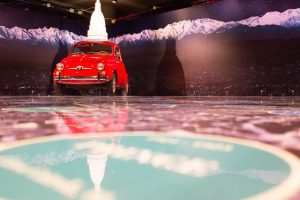 So here's a tip: Throw out the guidebooks and steer clear of TripAdvisor, travel when you want and see what you like.
Years ago, my wife Beth and I traveled to Ireland in early October. We booked flights to Shannon and had a rental car waiting. We had a map, but no plans. We had a rough idea of places we wanted to visit, but no hard and fast itinerary for the ten days we would be there. The best experiences we had weren't in a guidebook–they came from asking a lot of questions and turning down a lot of two track trails. We picked up student hitchhikers, bought drinks for locals in pubs and always asked, "Where should we go next?"
That led us to castles that perhaps one to two people a week visited. We stood five feet away from Chieftain's flautist Matt Molloy while he played a set with friends in his pub in Westport. We had an impromptu meet up at dinner with acquaintances from the trip including some innkeepers, a Welsh couple and a retired CIA agent. And, we had tea at a house where Charles de Gaulle spent part of his retirement.
Since then, we've traveled mostly during the fall and winter. We miss the crowds (well, we don't really miss them), and we have opportunities to experience things that don't take place in the crush of summer. Like Nuit Blanche in Paris, where we traveled around the city at night, playing in the fog sculpture at Place de République and running into marching bands that took over city streets.
In the same way, we focus on what we want to see. Like the morning I hung out at Cycles Alex Singer, talking shop in a place that shaped bicycle culture in France since 1938. It's not in the guidebooks, but to me it's a bucket list item. There's a connection, however small, between that shop and my life around bicycles. I can't say that many of the monuments make the same connection.
In the same way, our visit to Italy this year was guided by one thing: To see as many of Bernini's works as possible. That's been Beth's longtime dream, and though it didn't rule out visiting the major landmarks–and in fact, many Bernini sculptures are in famous monuments–it took precedence over them.
Everyone's list of places that matter is different. What stokes your imagination?
Thanks for reading, and if you're interested in architecture or automobiles look at this album of my photos from the Museo dell'Automobile di Torino. Cars and car culture are interests of mine, and if they're yours this is a must-see place. Beth, who is more into Bernini than cars, admitted that it was far more interesting than she expected.